Here is my powder room before I decided what I could do with it. I first bought the mirror, then I knew I had to do something with the worn out white color on the walls but I did like the blue cabinet which matches the cabinets in my laundry room which is next to this room.
My nephew, Clint, painted the room for me. I chose the salmon color for the walls and a blue on the door to complement the cabinet. Clint did a great job cutting in the ceiling and painting the room.
My sister,Juli, help pick out the paint color and she and Cole oversaw the progress.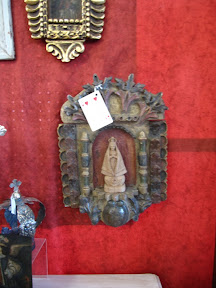 Juli and I traveled to Round Top, Texas for the Antique show in October. That is where I bought the Peruvian niche with the saint pictured above and below.
You can catch a glimpse of the newly painted blue door in the mirror.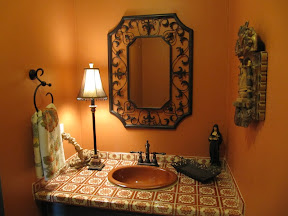 Now I really enjoy the look of this room and appreciate all the help to get it this way.
- Posted using BlogPress from my iPad